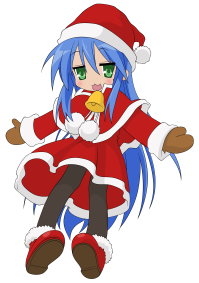 Joined

Dec 24, 2021
Messages

133
Reaction score

297
Awards

51
Don't know if I really have much to add to this because I've always been a social hermit but
- People used to identify around interests, hobbies and attitudes. Now it's all about products, brands, and whichever trend they are following at the time
This has been one of the stranger changes for me instead of just liking something people are now cultist fans of everything and I'm not sure why, gatekeeping is dead as fuck so I'm guessing it's because fandoms became so popular? I guess it's just apart of our nature to want to identify as something but I think people identifying with series and things has just gotten a lot more apparent.
now I regularly see buff dudes watching the likes of Sword Art Online and Re:Zero on the gym treadmills. Not too long ago a well-adjusted and otherwise normal girl who used to pick on me for being a nerd in middle school made a Facebook post about how she was a fan of Miss Kobayashi's Dragon Maid. I almost had a stroke.
Also very jarring for me, I knew that anime had become more mainstream but I thought it was in a "people think it's weird but they won't really judge you for it" way but after seeing my classmates actually talking about what anime series they watch I just thought "holy shit". It's easy to pick out the normies though because mostly just watch shit like shonen. I'm surprised a gymbro would be watching dragonmaid though, it's popular but I know there's a bit of people who would call you a pedo for watching it lol.