Self-Hating Bureaucrat
Gold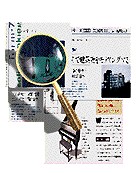 Joined

Mar 27, 2022
Messages

677
Reaction score

3,789
Awards

211
Website
This is a thread for fiction written about the internet. Stories that are either set on the internet, involve the internet as a major plot point, or are significantly informed by internet culture. Being published on the internet is a bonus. Non-fiction is allowed, as long as it's creative and not just another straightforward opinion piece or technical article.
I'm interested in seeing obscure stuff - works written by genuinely "online" people that take on the weirder side of the web and that aren't aimed at the Facebook-browsing general audience. I know there are a number of popular recent novels about the internet, but as far as I can tell they're all focused on social media and how it is...le bad. Maybe that's an unfair judgment, but I really have no interest in reading about the internet from the perspective of someone who has a blue checkmark on twitter and feels the need to write about the internet out of some sense of social responsibility. I want to read internet fiction written by the kind of people that only appear as characters in these mainstream books. I want raw, realistic depictions of online life written by people who aren't afraid to get as stupid or disgusting as they need to portray the internet as it actually is. I want read stuff that you can't understand unless you spend a lot of time on the internet.
Here are a few examples of what I have in mind:
You can probably tell that this list is heavily influenced by my personal taste and internet-browsing habits. I made this thread because I want to hear some alternate opinions on what should be included in the "internet canon." I've always wanted to try putting together a list along these lines to counterbalance the mainstream conception of internet fiction mentioned above, but because my own experience with the net is fairly limited opening the topic up for discussion seemed like a good idea.
So, let me know what you think. What is "internet fiction" to you? What deserves to be added to the list? What kind of out-there, cutting-edge stuff is getting overlooked right now?
Thanks to
@Remember_Summer_Days
and
@lain is here
for their feedback in putting this together. I know I said I'd make this post a long time ago, but I didn't forget about it.
Last edited: