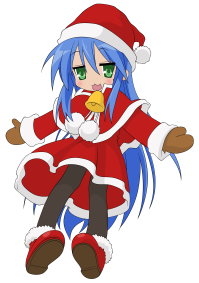 Joined

Dec 24, 2021
Messages

121
Reaction score

250
Awards

47
this topic is very interesting to me because i think i fell into the trap of letting my online persona describe me when i was younger but i don't think i could wrap my head around what happened enough to actually say anything about it.
right now my internet personas don't describe me nearly as much as they used to and i feel pretty disconnected from them. i kind of feel connected to the names but any profile picture i use is usually just something i like looking at
Cute anime girl

but i think i've felt more disconnected with myself offline as well so i don't think i'd really give a shit about my online personas
also contrasting an anime girl with myself, who i usually view negatively, is funny to me
+ I'm just a degen
What about playing as a female character in all your video games because "I'd rather be looking at ass for 60 hours instead of a man bro"? Is this effect negligible or should we pay more attention to it when using the internet?
this is me in fgs
i don't remember when i saw it but i remember there was some tweet that said "If you always play girl characters all the time, you might be trans!", and i don't get where those feelings come from.
but i don't really project onto games with premade characters, if a game has a character creation i'll usually make something i feel is similar to me