Joined

Dec 8, 2018
Messages

150
Reaction score

271
Awards

28
Website
After spending time on the clock app wasting my time because my ADHD won't let me make up my mind about what I want to do on this uneventful Sunday, I came across a video shared on that platform talking about
technology announced last year as being patented by Deepmind Technologies Limited [backed by Microsoft].
As described,
"Cryptocurrency System Using Body Activity Data" explains how a "brain wave or body heat emitted from the user when the user performs the task provided by an information service provider, such as viewing an advertisement or using certain internet services, can be used in the mining process."
This description alone reminded me of a social platform I used to frequent in my teens called ourWorld.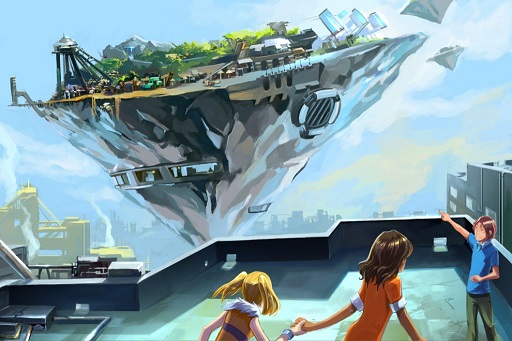 What is ourWorld?​
ourWorld
, according to the description on
Flowplay's page
, "is an online virtual world specifically designed to offer teens a place to getaway, with over 200 in-world games ranging from puzzle to action alongside social environments such as dance clubs and coffee shops." The game is a testament of what Flash as a stretched powerpoint engine was capable of during it's days as an active social platform. The service provided customizable avatars, customizable apartments, an active community that was listened to by the staff and a meritocracy based economy that co-existed with real money-backed currency called "
Gems
". The economy of this game was fueled by it's users playing the games licensed [back in the day even Popcap was involved] to this platform with an exchange system called "
Flow
". Flow was earned by completing tasks given by NPCs, having conversations with other players in the chat, dancing, it could be mined with
Flow Shovels
, it could be purchased with
Gems
and most importantly it was earned by playing the games available on the platform. In order to increase the percentage of Flow earned while gaming, booster accessories were available for purchase and linking your Facebook account would give you a guaranteed 100% extra
Flow
earnings [plus an extra 25% if you wear the Facebook necklace].
After the
Flash EoL
which has compromised the safekeeping of Exabytes of media on the internet, Flowplay promised that the platform would be supported through Adobe Air [which is a move many services have been opting for] but sadly, because of how many crucial features have been removed the majority of it's users have left to never return. Flowplay's inaction to save this platform has been overshadowed by the more successful e-Casino experience,
VegasWorld,
which unlike ourWorld is still very well supported despite both services using the same technologies.
Cool, but how did this game predict a future technology?​
According to the report by PCMag last year "Instead of massive computation work required by some conventional cryptocurrency systems, data generated based on the body activity of the user can be proof-of-work, and therefore, a user can solve the computationally difficult problem unconsciously," the patent continues. In order to access this validation data, the human user would need to have a sensor attached to, or installed in, their body. Microsoft envisages users being rewarded for allowing their bodies to be monitored in this way by paying them in cryptocurrency for performing specific tasks. As well as brain waves and heat, the patent also suggests using "body fluid flow" and "organ activity and movement" to track a range of tasks including using social media, search engines, email, visiting websites, or using chatbots." The technology concept recently was proved to be a success recently by the monkey playing Mindpong in the video above and naturally it has created a discourse on how this technology will be used on a wide scale. This is where ourWorld comes in.
The "lore" of ourWorld goes as follows:
The setting takes place in downWorld [which did become it's own game until VegasWorld kicked it in the ass and had to be shutdown], where the government has complete control over it's population where they have been all enslaved. Creativity and fun of ANY sort is banned, schools are practically prisons, the world is grey and contaminated and economic mobility has practically returned to the age of serfdom [which, honestly, this is where we in the real world are heading to]. NPC Azia, a guerilla scientist, lives within this world where she is determined to find a way out of this situation; with help of her friends, Azia tests how far "Flow" can go in terms of use. Realizing the potential of this technology, Azia and her friends created devices to lift the condemned zones of the surrounding district to create a safe haven where people could escape to, away from the control of the Ministry of Uniformity. As the people escaped, the environmental health of the world would continue to decline and downWorld would become a place where genetic abominations rule except for the small pockets of civilization that will remain.
Meanwhile in ourWorld, people are thriving and running an economy that runs on recycled materials and secondhand goods, proving that it is possible to live a life where nobody has to be a slave in order to make ends meet and uphold a meaningful place in society.
​
So, Flow is real... Now what?​
ourWorld happens to be a handful of social platforms that have used the real world concept of a thriving civilization that are solely dependent on leisure to run the economy. As demonstrated by the research and application of Flow technology in the real world, it IS possible to convert this energy into a form of cryptocurrency; crypto mining by power-chugging computers could be a thing of the past and everyone connected to this technology could benefit. There is obviously the fact that even though this is a promising endeavor, it is possible for the governments of the world to turn this on us in the same way the internet has been weaponized as a tool of control. China has already proven how far these organizations can go to pry into the lives of the people who depend on them for the sole purpose of protecting the interests of the CCP.
ourWorld gives a child's view of the world that could be, away from the commute, away from the Karens because service jobs would not be a requirement, the dirty politicians, the prison that is the public education system, away from the ever increasing inflation... a world where the automation of goods and services is possible without millions of people going hungry everyday because people are allowed the capability to sustain themselves and their families by doing whatever they want. We could all hope that future efforts will pay off and maybe we will give this a try to escape the rats nest we are trapped inside of under Capitalism.
Last edited: