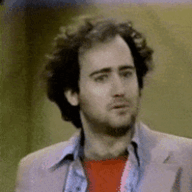 Joined

Feb 19, 2022
Messages

1,116
Reaction score

4,210
Awards

209
I do programming-for-hire in the game industry. I also repeatedly have to wade through shitty "offers" by scammy companies trying to take me for a ride and get free labour out of me.

Can you name a single "reasonable, middle class" company that offers unpaid internships? This is literally a megacorp problem.

I'll respond to the rest later. But the gist of it is:

If unpaid internships existed purely in a vacuum, there would be far less of a problem and I doubt I would be going on large unhinged rants about them. It's like gambling - there's nothing wrong with offering wagers, at least on principle. But in much the same way gambling companies continually prey on weak, gullible or desperate people, unpaid internships are thrown around constantly by businesses as "a possible BIG career step" or "a good way to gain experience", despite that mostly being a lie. Once people are in the internship they have been sold under false pretences, they can be kept there because a lot of the time it's tied to a "work experience" program through university or school or whatever and they can't leave without risking some consequence. This is why it's moral to gum up and break the system. This isn't like shoplifting where you basically walk in and take stuff to fuck the store over. This is companies actively engaging in bad behaviour that they know is bad, and people responding to it by wasting their time on purpose.

It does seem to be very different in places like Germany, so to make things absolutely clear: My experience with unpaid internships is the Australian version, which is quite similar to the standard shitty American idea. There's more often than not no experience to be had - in fact, there are corporations here who specifically avoid mindless, manual work (like setting up Windows on 3000 machines) and then just constantly get interns to do it. The intern culture here is absolutely plagued with immorality, and the whole system is a scam. It's actually worse here because even paid internships have a lot of issues too (companies just using them as a cheap labour source and not a "educational position" etc). Finding any way to short circuit that system is morally good, as is finding any way to disrupt the gambling racket. It's not immoral to steal money from a poker machine for the same reason that it's not immoral to waste an interviewers time when they are offering an unpaid internship.

If an honest, middle-class business is offering one, that's probably a different story. But they usually don't. In fact from my experience small businesses don't usually offer internships at all, because they are usually far more generous and just offer paid positions when they need work done. Faceless megacorps are the only ones really doing it, and it's hurting nobody to hurt them. I'm sure the interviewer doesn't care - they get paid either way. It's only the board of directory and the profit margins. And to be honest, I don't consider board members of megacorporations human at this point.
Yeah I think everything is said at this point, I think it partly comes down to cultural differences but the practice of just using interns as free manual labor is done here as well.
I think initially I just didn't like the idea of being dishonest. I still don't but I see where you're coming from.
But in my upbringing, maybe it was the Christian influence, I was always told that two wrongs don't make a right and that being honest and honorable should be more important and I still hold dear to these concepts.
Lying and petty revenge are very contrary to my values and while that's not entirely unavoidable as a human, I try to steer clear of it and the OP >reddit

post to me seemed to be just that.