Joined

Mar 20, 2022
Messages

25
Reaction score

58
Awards

22
Here's a list with some seinen manga I have read. Shit I didn't regret reading.
Seinen is such a token filter in manga portals, which sucks because there's some good adult stuff on a par with western graphic novels but you have to look up for it. I'm not a high brow reader so I look for things with sex on it. Feel free to chime in with suggestions.
It seems to me that the modern manga world has entered the Netflix, streaming, user feedback content generation pipeline resulting in scanlation portals being inundated with the most decrepit soulless shit. Chinese and korean manwha/webcomics comprise most of the views in portals like Mangakakalot, the sole reason of this being that the strip comic format enables viewers to read from their smartphone.

I say the sole reason because Chinese/Korean manga mostly sucks. Ugly, drawn with a tablet, backgrounds just google sketch screenshots. No theory of color since zoomer chinks are so obssessed with futurism and perfection they need be blasted with the most saturated colors their monitor can display otherwise they lose attention.

There's also an obsession with cultivation manwha that western hemisphere is not catching up with yet, I would imagine there would be some video essays about it at this point. It's some traditional chinese thing about "leveling up", in the most formulaic depressing mathematical way possible. The comic version of those big tittied elfs mobile game banners that used to appear in torrent sites.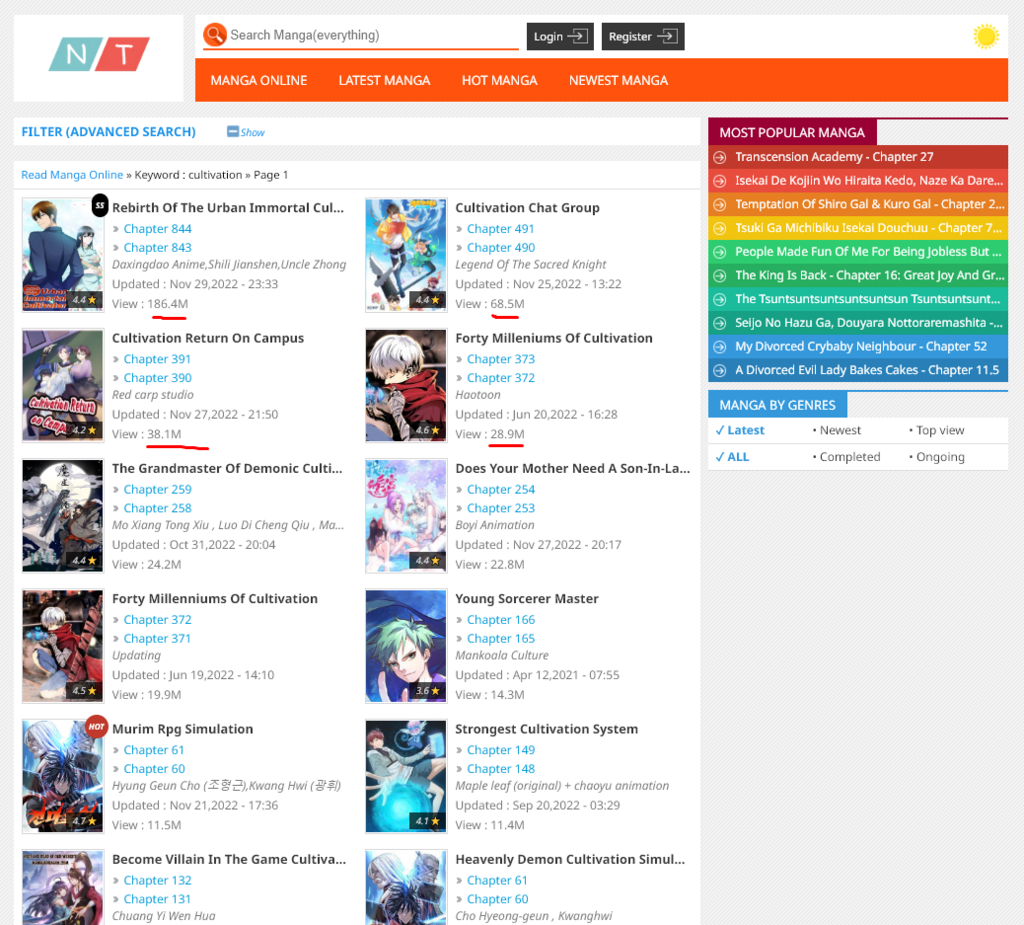 Just take a look at the numbers, is this bullshit. Are they faking these numbers how can so many people read this. I want to imagine that these are chinese readers but the chapters are in english. 180 million people reading Rebirth Of The Urban Immortal Cultivator, are these western readers what am I missing.
By now everyone knows his masterpiece
Oyasumi Punpun
which I think at least at this point has already taken fucking
Monster
spot when somebody ask about seinen mangas (not Berserk). Here are other mangas he did:
A Girl on The Shore
Very depraved manga about teenage sex without the absolving veil of cartoonization. It's short, disturbing and to the point. Some disturbing scat scene which I swear to God I don't have a fetish on. The setting is very good without having to resort to fucking cherry blossoms.
Reiraku
The best manga about being in the mangaka business I think, better than gay ass Bakuman at least. Very dry story about a divorced burned out mangaka and a hooker.
Dead Dead Demon's Dededede Destruction
Hist latest manga science fictiony story about an alien invasion. TBH I lost interest in this one as it got convoluted but it's very good.
-----------------------------------------------------------------------------------------------
Oshimi Shuzo
​
Another very good seinen mangaka, on a par with albeit less notorious than Inio Asano. Draws with a very loose graphic novel style. Most known for
The Flowers of Evil
, which was made into an anime. I'll mention some other ones:
Inside Mari
Makoto Shinkai quoted about this manga
"the best take on body swap manga"
or something like that. I skimmed through the manga one weekend and got hooked when I found the twist. Fun to read and not very long.
Okaeri Alice (ongoing)
A darling of 4chan/a/ monthly drama about a deranged "love" triangle between a boy, a girl and a trap/former best friend in high school. Not very realistic but at least doesn't add fucking yakuzas. Reading chapters as dumped on release in a 4chan th was a very funny way of reading. I have 4chan/a/ blocked since months ago.
A trail of Blood (ongoing)
This one is pretty popular by now. Drama about an overprotective mom that gets dark/depressing very quickly.
-----------------------------------------------------------------------------------------------
Kengo Hanazawa
​
Boys on the Run
One of my favorite mangas. Your tipical story about an office worker trying to break the mold and becoming poorly involved with boxing in the process. It's kinda retarded and resorts to very fantasized scenarios, but still it displays some of that mundane japanese loser misery that makes you not want to be in the same situation. The characters are realistic and fleshed out.
I Am A Hero
This one is pretty known and it's considered the
japanese Walking Dead
. A story about a mediocre mangaka in a zombie apocalypse with its own twist of japanese social awkwardness.
I mostly like the beginning of the story which is also a very good inside into the manga industry -better than Bakuman.
-----------------------------------------------------------------------------------------------
Minoru Furuya
​
This guy draws some boring meandering mangas about life. Some of them are bland, weird, and don't break the japanese international barrier. It's that feeling like when you see weird sega saturn/FM towns marty obscure game compilations.
Ciguatera
Cute, romantic, dragging, coming of age story with a very shallow motorcycle theme. It gets convoluted at some points with the adding of Yakuzas/School bullies shit.
Wanitokagegisu
Another weird manga about a security guard trying to break the routine. Again very weirdly paced, stupid yakuza convoluted plots and some fantasizing, but still interesting.
Saltiness
His latest manga as far as I know, about a niesztchean eccentric guy and his way of confronting life. Very short and funny.
-----------------------------------------------------------------------------------------------
Yamamoto Naoki
​
Disturbing perverted "for japanese eyes only" mangaka. Probably the only mangaka I've dropped in mangakakalot just for the tasteless content. He draws in a very anachronistic way without antialiasing so his manga looks drawn in paint. Found a
documentary
series about mangakas with him featured in one episode. They found he draws in photoshop 5.0, which came in 1998, in a tablet with no pen pressure if I recall correctly.
Arigatou
Disturbing violent manga about a family getting fucked by the world and a deranged father trying to stay afloat. Retarded and very questionable content. Still, the characters feel real, the whole thing makes you uncomfortable and glad to not being in that situation.
Believers
Drama about members of a cult guarding an outpost on a small coast island I forgot. I remember this one was good and disturbing also.
-----------------------------------------------------------------------------------------------​
Tokio Kaido
Very abrupt story about an hospital for unusual cases, including a little girl that can't see people, a boy that can't lie, and a girl that cums involuntarily among others. This is by a mangaka that draws in a flat western graphic novel style. It's very short and it ends abruptly.
Yeah man, me too
Legend of the Strongest Man, Kurosawa
This one is from
Fukumoto Nobuyuki
famous from his gambling manga
Kaigi
which I didn't read (the one that has that anime long strip meme about wasting your life). I like the first act of the story, which is very depressing. After that there's this whole yakuza high school fighters which is too bullshity but overall a good story.
Hakuba No Oujisama
Extremely obscure manga that's only half-translated. Still very good. A very poignant story about infidelity and a woman's fear of hitting the wall. The characters are retarded and unlikable and you can see how they delude themselves into bad decisions. But still, more or less how it could unfold in real life.
-----------------------------------------------------------------------------------------------​
Here's a list of less seinen, more anime like/ecchi mangas that I have read:
Even if you don't do it
This one is not very good and the drawing style is offputting. A manga about
r/DeadBedrooms
(when a partner in a couple has low libido and doesn't want to fuck). Very retarded but funny that for all the mangas that use sexual tension as a plot device, this is the one instance where it makes sense. Still pretty bad.
Give me a break.
Daugther's Friend
I'm sure some of you know
After The Rain
, shoujo romance comedy about a 17 year old girl falling in love with a forty something restaurant manager in a very Makoto Shinkai cherry blossoms way. It was pretty popular and got made into an anime. It's also complete romantic fake bullshit.
Daughter's Friend is a much less notorious, bland, less cute take on the whole
salary man dating a high school student
that still, manages to be more honest about the whole thing.
Boy's Abyss
Another 4chan/a/ greatest hits, completely retarded soap opera about some convoluted lover's suicide thing in a backwater japanese town. It's bad but has that has that Garfield strip memetic value that makes it very fun to read in a /a/ dump thread. Only include it here because the setting is kinda dark and interesting.
Onani Master Kurosawa
This one is pretty known. Cool story about redemption.
Molester Man
From the same guy that drew above, entertaining manga adaptation of a 4chan thread about a guy in a
Densha Otoko/Train man
kind of situation.
Last edited: