번호9
Joined

Aug 29, 2021
Messages

2,706
Reaction score

21,854
Awards

307
Not very sure if we actually made an stalker thread, i remember we talked a lot about it in Innawods loadouts, but never about the actual game itself, so i just thought about making this for talking about the franchise, factions and every topic, analysis about the franchise in general
(and if you are a nerd
like my lovely
@Remember_Summer_Days
you can also talk
about roadside picnic
if you want)
I'll start talking about my favorite thing of everything (a top 3 because i'm lazy as shit)
FACTIONS
We all need a friend (or someone to shoot at), nothing better than association of psychos with circlejerking ideas for that.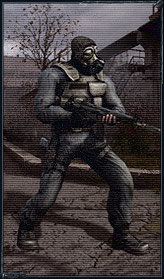 Mercenaries
They are the only faction composed by westerners who works for an unknown client, they are extremely hostile and preffer to work on squads in the most heated areas of the zone (mostly pripyat) collecting info and artifacts, their armament is usually composed by Nato Armory (5.56 and so, they are my favorite to use, fuck kalashnikov), is my preffered faction mostly because of context and aesthetic, while everyone had their own politics and ideas of what to do with the zone, the mercenaries are just there for cash and only cash, also shooting people and looting stuff for fun, they are basically bandits with elite military training and equipment, reinforcing the ideas that PMC in videogames are fucking sick and adapts better to my playstyle (kill and loot and sell to kill even better and to loot even harder) (is faction i choose the most in anomaly too)
FREEDOM
The eternal debate, freedom vs duty, fun or anti-fun, weed gang or soviet discipline, Freedom is the anarchist faction of stalker (alongside the loners), the difference is that they care about the politics of the zone, their idea is that the zone should be kept as it is, and that everyone should be able to enter and go nuts in there, despite this, they still have a very centralized line of command like duty, the difference is that they have the indviduality freedoms lack, giving them a lot of flexibility (i fucking love how they reffer to their superiors like "bro", "dude", "maaaan"), due to them still being a bunch of highly trained and well armed stoners (they have better armament but worse armor than duty), that spent their whole day taking drugs, and relaxing in the zone they are likely to be the most friendly and chillest faction in the game, no silly depression, just a great time with the pals in the zone, shooting the bad guys (kys duty) and having fun.
Military
They are a better, bigger, meaner and more corrupt version of duty, what can i say about it? Is just the Ukrainian army, like any army in the world, they operate in two ways in the zone, as patrol border guards (highly corrupt tho) and the spetsnaz units, mostly of what it applies here is about the spetsnaz, due to them the only ones who get deep into the zone, they are basically special forces who get deep into the zone to study alongside the ecologist (the eggheads) what the fuck is going on in the zone and how to stop it, tho unlike clear sky (rest in piss) they actually have the resources to pull it up, most of the crew members are sent in suicidal missions for intel tho, even in the game we don't know much about it.

Most of their lore is expanded in Call of Pripyat in which our main character, our second favorite receeding hairline slav, Major Degtyarev is actually an spetsnaz with the objective of recovery intel from crashed hinds (it later became into a fucking clusterfuck oddyssey full of shootouts, death, looting, radiation, horror, homoeroticism and lots lots lots of medkits and canned food)
WEAPONS
Every game needs tools for mass destruction these are mines.
FT-200M
The jackoff all trades, the master OF EVERYONE, Is based on the FN(GOD)2000, is an assault rifle that shoots 5.56x45mm caliber bullets, is extremely fancy and extremely precise, it's built in with an integrated scope an grenade launcher (so you don't have to spent time looking for those), the recoil is almost as existent as tiktoker father and it can annihilate everyone quite easily, will never miss a shot, is capable of penetrate any armor easily, and it even cooks breakfast just for you (she is the only lady you'll ever need), it's perfect for when you are facing OWOlith troopers, and you just want them dead 3 times before they even reached the ground, its futuristic aesthetic never fails to integrate in the atmosphere, specially when you shoot a bunch of pigs wearing high tech exoskeleton armor.
GAUSS RIFLE
As the name implies, is a gauss gun, capable of shooting projectiles via use of electromagnetic fields at ludicrous speeds, is the perfect sniper, it never misses and shots, AND INSTAKILLS EVERYTHING, literally, you just need to be comfy on your couch far away, point, shoot and cause an amount of genocide that would make any general blush, is frequently used by the monolith in the most dangerous areas of the zone, so you know this is packing heat, punch, and glory, nothing comes close to the level of satisfaction this bad boy prodcues when facing obstacles such as flesh, is like carrying a portable broadway show. (i'd buy that for a dollar)
THE FUCKING ELIMINATOR
Even the name is edgy as fuck omg i love it, is basically 12 Gauge Armsel Stryker (The Streetsweeper), stalker shotguns are kinda mid, due to their lack of damage, until you reach the eliminator, even tho the damage is just slightly more powerful than the pump shotty, it compensates with a large magazine and a high rate of semiauto fire, you can slam mutants in the head with ease, and turn the game from survival horror/fps, to action comedy/fps, "you don't even need to aim, just pray, spray, annihilate" is the motto.
I'll update this as the thread goes, i hope it's a topic of interest to everyone, have a good one.​
Last edited: