Ooooookay...I'm posting this on here since I'm sure I wouldn't hear the end of it over on "that other forum".
These are some shots of the not-quite-done-yet studio here. It's not done because I had a very serious fall back in early May and I'm finally getting past the damage from that just now, so I should be able to start scrambling in/around/under/over all of this junk to complete the power connections, then comes the audio lines, MIDI, USB, and star-ground wires. Now, all of the vaporwave I do happens in the multitrack workstation. These pics are of everything else...or rather, most of everything else because...again...it's not 100% done yet.
First up, the lab equipment. These several shots are of the wall (literally!) of this stuff, which is here because I've always thought that abandoning these methods of creating electronic sound because synths came into existence was a bit of a mistake.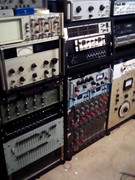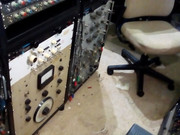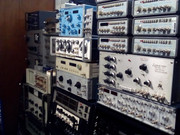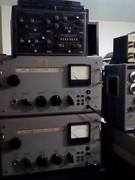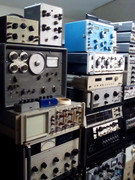 Last up in that same vein, here's the desk (covered in crap at present...like I said, still working on it) and the overbridge with the monitoring controls, A-D/D-A multitrack interface, and the uber-trick Krohn-hites.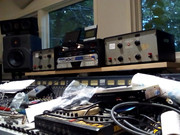 Keyboards. The first shot is of some of the polysynths, plus the Ace Tone organ, Crumar Performer, and Davolisint (and the Microfreak, perched for the moment on the CS-80's keyboard). Then the second is the rest of the keyboards. Don't worry, it probably won't look like this in a month or so as I finalize things.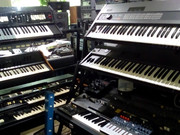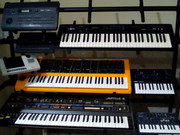 And the processing gear. Lower racks first, upper (and the voodoo lurking on top) second.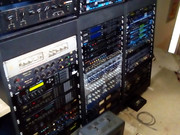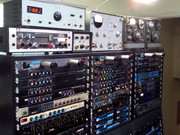 And last up, the "sandbox", which is where most all of my patchable and modular stuff resides so that I can hook it all up to each other, hopefully without duplicating the Trinity test in the process.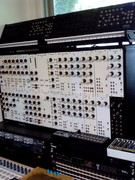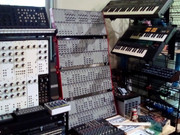 So...uh, yeah. That's home...or at least, a few shots of it. Frankly, I'm quasi-amazed that this whole pile o' crap hasn't caused structural failure and fallen on me (my bedroom is directly under this) in the wee hours. And I'll ALSO be amazed if I don't blast the electric meter off the side of the house when the power's up for everything in here...although I think the two new 20A circuits I added should be up to the load. Now let's see if these pics actually embedded...wheeeeee!