This was written by stroligy from Private suite Mag (Now defunct Vaporwave Magazine)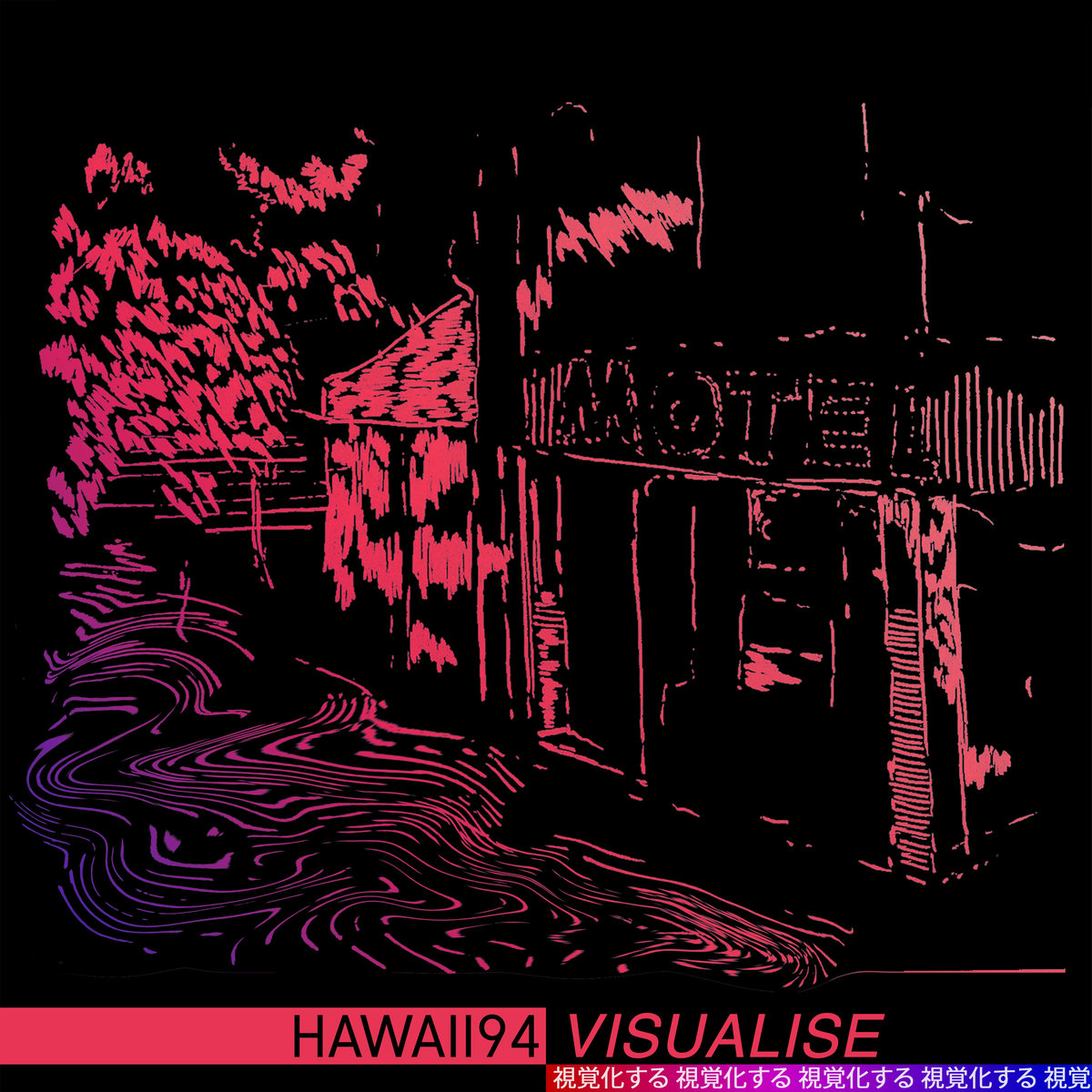 For fans familiar with vaporwave-luminaries S U R F I N G, best known for their 2012 cult-release
Deep Fantasy
, Léroy Honeycomb's HAWAII94 is a familiar face in a glo-fi dreamland. Like Honeycomb's alternate offshoot Neoclone––a project with a mere three tracks, all with an undeniably crisp, cool, grounded sense of style––HAWAII94's latest album
Visualise
is equally glossy in texture, sultry in tone, and pleasantly consistent in composition.
Lead single "I'm On Fire" opens in a buoyant array of shimmer, abruptly quelled by distorted guitar riffs and hypnotic vocalization. "Infinity" makes continued use of dreamily-layered synths and reflective lyricism, questioning both himself and his partner in the laws of love: "In so many ways/I don't know what I've done/To deserve to keep my place".
"The World Won't Wait" is as palpable in lyrics as in instrumentation, with its lush, bouncy vocals, undulating synths, and swirling guitar riffs. "Alone" plunges listeners in a whirlwind of passion and warmth, while Honeycomb sings sweetly of confusion and disdain for the world around him. The track eventually winds down for a bright, reverb-laden synth solo before delving into a purely electrifying sendoff. Lo-fi vocals superimpose rich, tender instrumentation consistent with the track. "Bold" brings to mind a descent into realization––expectant and overcoming of sorts. Reverb-drenched guitar riffs play against the rise and fall of ambient "ah"s––the quintessential dream-pop song. "Fear" billows in movement and positive energy (i.e. "good vibes"); the kind of floaty sonicism called for on a cross-country road trip. Adversely, "Promise" feels otherworldly, bound in a state of mind-melting merriness.
Airy synths ebb and flow to the beat, encapsulated in hazy recollections of love and disconnection. "Eons" longs for satisfaction, for self-understanding; tender guitar plucks and delayed synths shine amidst a twinkling aural landscape, only to fade into "Escape". A contrastingly paced song, pitched-down vocals and inattentive drumming add to the more leisurely approach taken with this track. "Without U" concludes the album in a gust of sun-swept vocals, mellow keys, and hazy guitar plucks.
Visualise
recants memories of love, loss, and isolation, wrapped tightly in a cozy bundle of synthetic, electric goodness. Themes of retrospection and growth overlie pastel-colored instrumentation––the aural landscapes of sweet dreams and sunny days. Sun-streaked synths waft over a contrastingly dark summer night, while Honeycomb's vocals occupy a cool summer shade. Each track arrives in a swell of warm, dense synthery––the sonic parallel of a touch of glitter in a place of lackluster.
The album's collective atmospheric vocalization paired with Honeycomb's glitz-and-glam approach to synthwork leaves
Visualise
an album perfect for those who wish to recline on a chaise lounge, icy beverage in hand––or for those looking to shrink into oneself and drift off into a dark, empty oblivion.
View: https://hawaii94.bandcamp.com/album/visualise